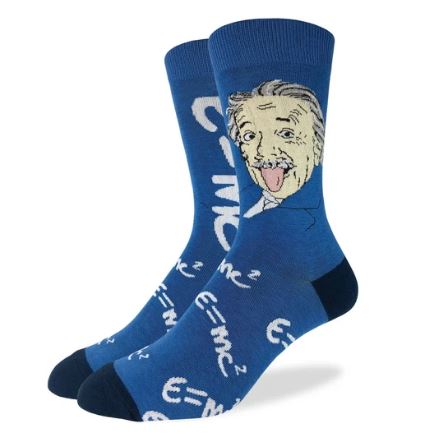 Good Luck Sock
Einstein Crew Socks
Sale price
$11.00 USD
Regular price
E = MC2 but you won't be a square in these Einstein socks! Did you know...Albert Einstein didn't wear socks? Despite that, we've decided he's crazy and that these socks will have you looking and feeling more intelligent.
MADE FROM
85% Cotton, 10% Polyester, 5% Spandex
CARE INSTRUCTIONS
Machine wash, cold (30 ℃ / 86 ℉). Do not bleach or iron. To reduce damage and if you're feeling very fancy, line dry. They will last longer if you keep them out of the tumble dryer. Eat well. Exercise. Have an amazing day.


ALBERT EINSTEIN and EINSTEIN are either trademarks or registered trademarks of The Hebrew University of Jerusalem. Represented exclusively by Greenlight. Official licensed merchandise.

ALBERT EINSTEIN™