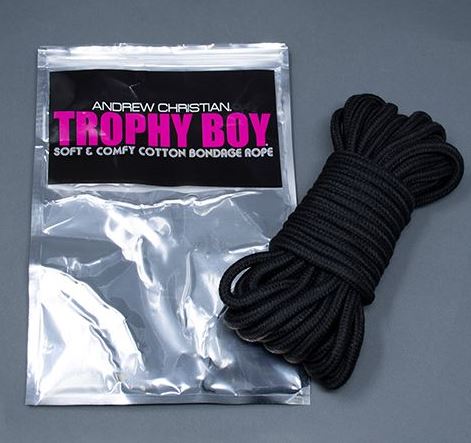 Andrew Christian
Trophy Boy Soft Comfy Bondage Rope
Sale price
$12.00 USD
Regular price
Deny your sub the power to move in the ultimate Total power exchange (TPE). Imagine the possibilities with 32 ft of rope that can wrap, twist, and bound anything in all directions. The Trophy Boy Soft & Comfy Bondage Rope is essential for every Dom & Sub. Made from comfortable cotton, your sub will enjoy a smooth and gentle bondage experience. Made to be skin safe, Phthalates free. Stop use immediately if irritation occurs. Sold as a novelty item, not a medical device. This Product Is Non-Exchangeable, Non-Returnable, and Non-Refundable.
Material: 100% Cotton
Size: 10 Meters / 32 ft x 6mm
Use & Care: Do not use for any position that impairs breathing or blood flow. Do not use for long periods of time that may cause bodily harm. Always play with a safe word. To avoid injury, do not use on inflamed, broken, irritated, swollen, or injured areas. If irritation occurs discontinue use and seek medical attention. Bondage should only be attempted by trained professionals.