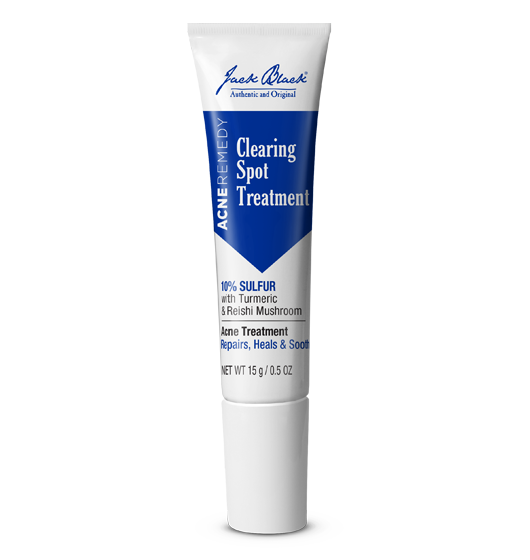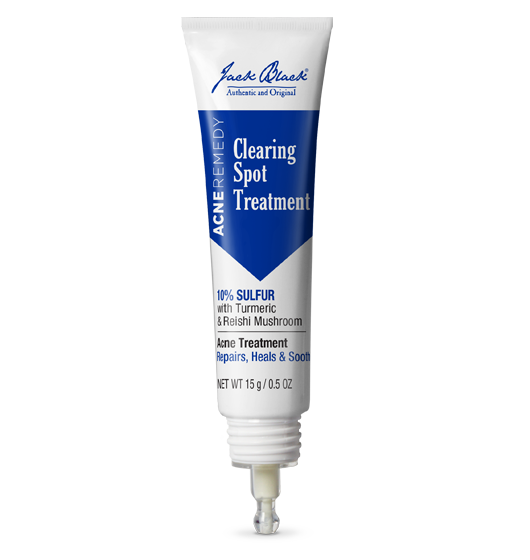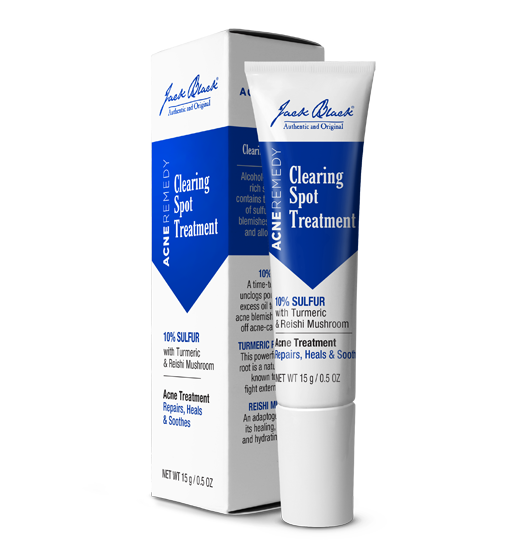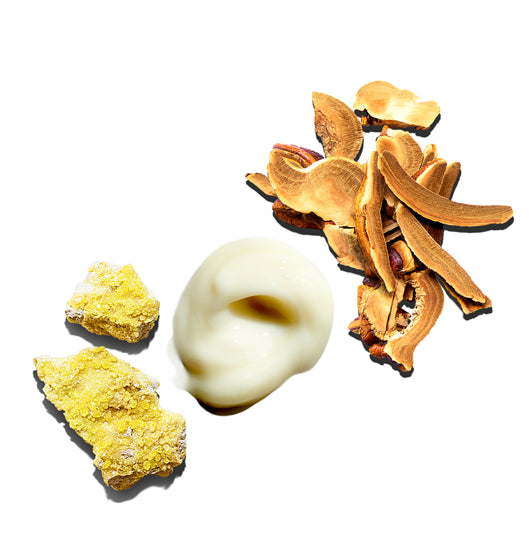 Jack Black
Clearing Spot Treatment
Sale price
$21.00 USD
Regular price
Description
Adaptogen-rich spot treatment contains the maximum level of Sulfur (10%), a natural acne-fighting mineral. This active ingredient clears up acne blemishes and blackheads and allows skin to heal. Gentle treatment is formulated to absorb excess oil, eliminate acne-causing bacteria, and soothe skin.
Developed to clear existing breakouts, our exclusive, alcohol-free formula is enriched with fermented Reishi Mushroom, an adaptogen known for its healing, detoxifying, and hydrating properties.
The Acne Remedy
Oil Free
Vegan
Sulfate Free
Alcohol Free
Paraben Free
Colorant Free
Fragrance Free
Dermatologist Tested
Cruelty Free
NOTE: When starting a new acne regimen, additional breakouts may occur initially. This is caused by a natural purge of bacteria. A consistent, daily acne treatment routine can help break the cycle.
What's In It
ACTIVE INGREDIENTS:10% Sulfur:
A time-tested, ancient remedy. Acne-fighting mineral unclogs pores and absorbs excess oil to visibly reduce acne blemishes while fighting off acne-causing bacteria.
INACTIVE INGREDIENTS:Turmeric Root Extract:
Used for over 2,500 years in Chinese and Ayurvedic medicine, this powerful adaptogenic root is a natural antioxidant known to help skin fight external stressors. Natural remedy that is known to gently clarify, nourish, and balance the skin.
Reishi Mushroom:
Used in traditional Chinese medicine, the Reishi Mushroom is an adaptogen known for its healing, detoxifying, and hydrating properties. A fermented extract of the Reishi Mushroom was shown to improve skin integrity while increasing its moisture.
Zinc, Magnesium, Potassium:
Potent mineral blend helps replenish essential minerals in compromised and stressed skin. Designed to promote a smoother, healthier complexion.
Aloe Vera:
A soothing adaptogen that helps skin respond to stresses that can trigger an inflammatory response.
Bisabolol:
Known to help fight bad bacteria and help reduce the appearance of redness and soothe skin.
How & When to use it?
After cleansing and moisturizing, apply a thin layer to the entire affected area 1-3 times daily or as needed. If dryness or peeling occurs, reduce the number of applications. Increase gradually as tolerated.