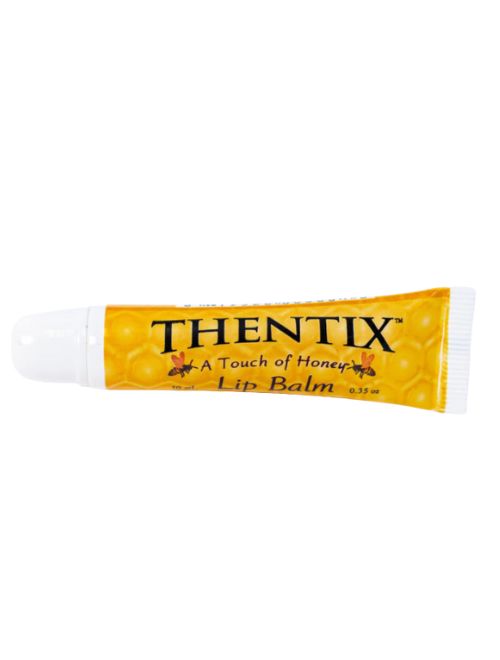 Thentix
Lip Balm
Sale price
$6.00 USD
Regular price
Thentix™ A Touch of Honey™ Premium Lip Balm is a natural lip care product that is loaded with natural oils, rich in vitamins and essential fatty acids, to nourish, condition and soften lips.

Specification :
Thentix Lip Balm 10mL

Beeswax seals in hydration.
Shea Butter is made of fatty acids, tocopherols, cinnamic acid which moisturizes the lips, thus making them soft and supple.
Honey provides resistance to environmental pollutants and promotes healing.
 Ingredients :
Olea Europaea (Olive Oil)

The oil obtained from the ripe fruit of Olea Europaea (Olive). This ingredient is made up of a mixture of fatty acids. This helps with the hydration of the skin.

Glycerine

Derived from plant sources, and has the ability or property of attracting water to itself.

Cera Alba (Beeswax)

This acts as a thin layer on your lips to help them keep the natural moisture in and prevents environmental damage.
Anti-bacterial helps as a healing agent for minor skin irritations.

Butyrospermum Parkii (Shea Butter)
Dimethicone

It helps to retain moisture so that the skin stays hydrated longer.

Cocos Nucifera (Coconut Oil)

Obtained from the dried inner flesh of the coconut and is a source of fatty acids such as lauric acid, capric acid, and palmitic acid. It helps with moisturizing and softening of the skin. 
Easily absorbed by the skin, it helps reduce the visibility of wrinkles and helps the skin look more nourished.

Helianthus Annuus (Sunflower Seed Oil)

It helps lower skin redness and roughness. This is high in omega-6 fatty acid and vitamin E. Helps with decreasing inflammation and the development of new skin cells as a result replenishes the skin's barrier.

Paraffin

This is commonly used in many lotions or creams. This is a mineral or wax that is used to soften and smooth skin. It has been used to treat physical conditions such as arthritis, joint stiffness.

Isopropyl Palmitate

Your body naturally converts this enzyme to retinol and this is a powerful anti-aging ingredient. It treats wrinkles by encouraging the growth of new skin.

Euphorbia Cerifera (candelilla) wax

This is a vegetable wax, that is used for texture and when absorbed will offer to help protect from environmental damage.

Honey

Anti-bacterial
Full of antioxidants
Complexion boost.

Flavour
BHT (anti-oxidant)

Organic compounds used for its anti-oxidant properties. This is found in foods and other lip balm products.
 ***Please note that Thentix has recently changed the packaging of this product.